A Talented Group of A Cappella Singers
Slaveya Vocal Ensemble, name came from the Bulgarian word for nightingale. We are a women's vocal ensemble that focuses on performing East European a cappella folk music. In addition to folk songs, we sing sacred vocal music from the orthodox traditions of the Balkans and Georgia.
We have been a member of the folk music and dance community in the Mid-Atlantic region since 1984. In our years singing in front of an audience, we have had several memorable performances, including: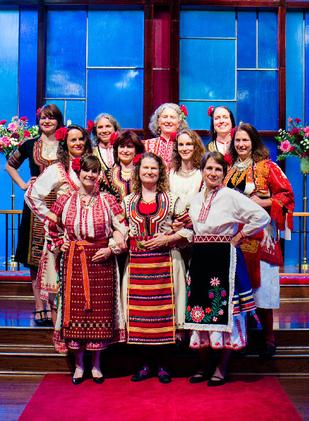 SingStrong A Cappella Festival

Zlatne Uste Golden Festival, NYC

Art After Hours Series at the Mansion at Strathmore

World Music Folklife Center Trifon Zarezan Festival

World Arts Festival Sponsored by Montgomery College
Balkan Celebration Hosted by the Folklore Society of Greater Washington (With Lyuti Chushki)

The Wammies (Washington Area Music Awards) at the Strathmore Music Center

Kennedy Center Millennium Stage

Library of Congress Capital Roots Concert Series (With Tatiana Sarbinska)

Maryland Renaissance Festival

Baltimore Folk Music Association Folk Festival
Our group has worked with many talented teachers of Balkan traditional music including Eva Salina Primack, Tanya Dosseva, Tzvety Weiner, Elitsa Stoyneva, and Merita Halili. We were also able to learn the traditional Georgian polyphony with several teachers and song masters, including Zedashe Ensemble, Malkhaz Erkvanidze, Carl Linich, Aurelia Shrenker, and Frank Kane, and the ensemble Adilei.
Slaveya members are Theadocia Austen, Beth Bienvenu, Rebecca Caldwell, Karen Chittenden, Helen Fedor, Anne Harrison, Jennifer Lee, Betsy Platt and Miriam Rollin.